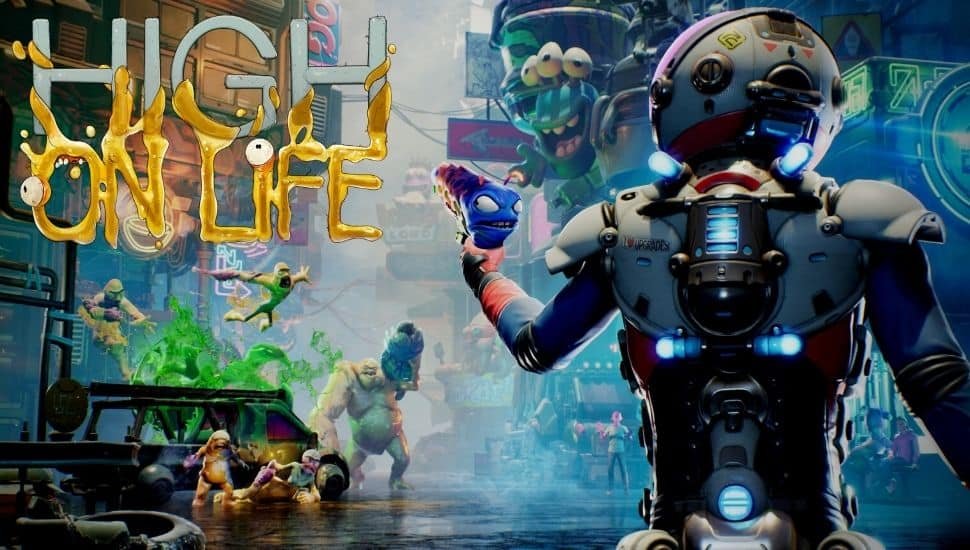 As the name suggests, 'High on Life is a funny shooter game (first person) that will allow you to play as a 'price hunter' who loves to confront space intruders and shoot them with unique weapons.
The game will take you on a journey of our world where you will see that the aliens have taken over the world and they are using us (humans) as drugs. But only you can save the planet from those aliens.
This game is created by the creator of Rick and Morty, Justin Roiland, and is set to be released on December 13, 2022 (it was supposed to release in October 2022, but it got delayed due to some bugs, glitches and fixes).
It is sad that we have to wait a few more days to enjoy this game, but I am sure that it will be one of the most fun games that come to the Xbox series and PC in a long time.
But, a disappointing fact is that the game is not yet releasing for PS4 and PS5 (it might be released for PlayStation later)
The absurd comedy and Sci-Fi theme of this game is sure to catch the attention of many gamers.
You will be playing as the game's protagonist, who has recently completed high school and has no idea what he wants to do with his career.
So, keeping the situation in mind, he becomes a space price hunter. The character is hell-bent on wiping the aliens from earth to make it livable for humans again.
But, the best thing you will enjoy about this game is that you won't be alone in the game and will be helped by arsenals who will even talk to you.
Apart from this, your weapons will also have funny characteristics and appearances and will share their remarks about when and how they are used. You will also encounter humorous background characters that keep the game lively.
The overall façade of the game is comical and super creative because, after all, it is an Action, Adventure Comedy Metroidvania First-Person Shooter Game'.
The gameplay is undoubtedly going to be super fun. But the ultimate question comes down to whether high on life is cross-platform.
Is High on Life Cross Platform?
You already know that High on Life is only coming to Xbox Series X, Xbox One, Xbox Series S, Xbox Cloud Gaming, and PC. And you can pre-book the game right now, or you can wait for it to get released.
The game has yet to come to PlayStation because there has been no news regarding whether the game will be released in December for PlayStation 4 and 5 or not.
But, the game might become available on other systems after a predetermined time. Let's hope for the best!
However, there is sad news for every player who wants to play the game with friends on a cross platform, as currently, there has not been any news on whether or not the game will be available for multiplayer mode.
So we are currently going to play it in a solitary endeavor when it is released. And hope that it becomes available soon for cross platform play because, honestly, where is the fun in playing such a fun game alone? There is no fun!
More cross platforms:
Final Verdict:
The game had already stirred up the gaming community even before it launched because of being different than most other games.
We rarely find games that are a mixture of arcade and adventure while also being incredibly funny and humorous.
In addition, there are so many stunning environments in the game that you will be able to explore! The only issue I found in this game was needing a multiplayer option. But you can still play it and have a great solo adventure.
Hopefully, you know everything about the High on Life game now; you can easily make up your mind and mentally prepare yourself to play this fantastic game.
So good luck for enjoying the game this December!