Multiplayer gaming has seen such dramatic changes in the last 10 years, and I cannot think of any other niche related to gaming that is as dynamic and flexible as Online gaming.
One by one, we saw all kinds of genres adopting the Multiplayer style of gaming. Fps shooters, racing, Combat games, and eventually RPGs joined the race.
Outriders is a more recent release in the RPG genre, and it features a third-person perspective with online multiplayer features. Mainly a cooperative title, players have to fight against AI combatants.
Outriders was released in 2021 and developed by People Can Fly. The game supports multiple platforms like PC, PS4/PS5, Xbox One, Xbox Series X/S, and Google Stadia.
The best part of this game is that being a PvE shooter; you can join your friends on your big adventure while maining different classes with exclusive and unique abilities. 4 classes are available for players to choose
Technomancer, Pyromancer, Trickster, and Devastator. It is upto you which one suits your playstyle the best, but once you get the hang of basic mechanics, you will be ready to hail war against bosses and their minions.
You might get overwhelmed because, like every RPG title, there are a lot of features, grinding to reach maximum level, weapons, and whatnot. But you will get there soon, and if you play with friends daily, you have nothing to worry about. Grow and Learn together on this long journey.
But What about crossplay?
Any new player must be wondering about crossplay because if you and your friends have decided to start a new game together, there should be crossplay so you can accommodate those friends who are on different platforms.
Do Outriders support crossplay or not? Important question, and we are going to uncover the truth behind it. Keep reading
Is Outriders Cross Platform In 2023?
Crossplay is becoming more and more popular these days. People are gravitating toward multiplayer games because they are easily accessible to anyone. Anyone can play with their friends, and you can find any kind of game in an online category.
Outriders is a brilliant game, and it does support Cross platform play. For a Co-op game like this, crossplay was a no-brainer. Even if it didn't have crossplay in the first place, Eventually, we would have got one.
This game works better if you are working in tandem with your teammates. Synergizing with your teammates even though everyone is using a different class? That's the beauty of it, and if you get to make that work, Kudos to you.
Crossplay is mainly focused on making a game accessible to everyone without worrying about different consoles and platforms. There is one dedicated server, everyone can join and play together without any restrictions.
Cross platform play benefits are huge, and one of the major positive changes that it brings is the reduced matchmaking time. More players are now playing the same game and probably queueing at the same time too. It shouldn't take long to find a game.
In most cases, Crossplay is often frowned upon by players, mainly console players who are worried about competing with PC players.
PC and console have major differences as PC players have more advantage in skills due to mouse and keyboard setup. They also enjoy unlocked frame rates that tone down their latency by a lot.
Fortunately, this is the case in PvP games. The Outriders is PvE-only CO-OP multiplayer, so you shouldn't worry about facing other opponents.
Overall, Crossplay seemed to be a good choice for a game like Outriders, and in the future, I hope that more games adopt this feature, especially the upcoming ones.
Related guides:
Is gang beasts cross platform? (pc, xbox one, ps5)
Is dead by daylight crossplay? (pc, ps4, xbox, ps5)
Is monster hunter world cross platform in 2023
Is stardew valley cross platform? (pc, xbox, ps5)
How To Enable Outriders Crossplay?
The best thing about Outriders crossplay is that it lets you play with other people who are using different consoles. But crossplay here is optional. It can be changed, and when you install this game for the first time, you have to manually enable it from the settings if you are willing to play with other platform users.
And it is super easy, straightforward, and simple.
The first step you need to take is to go into the options and look for the gameplay tab, which would be visible to you. Scroll down to the bottom, and you will see the crossplay setting, and it would be on the "Off" setting. Change it to ON, and you are good to go.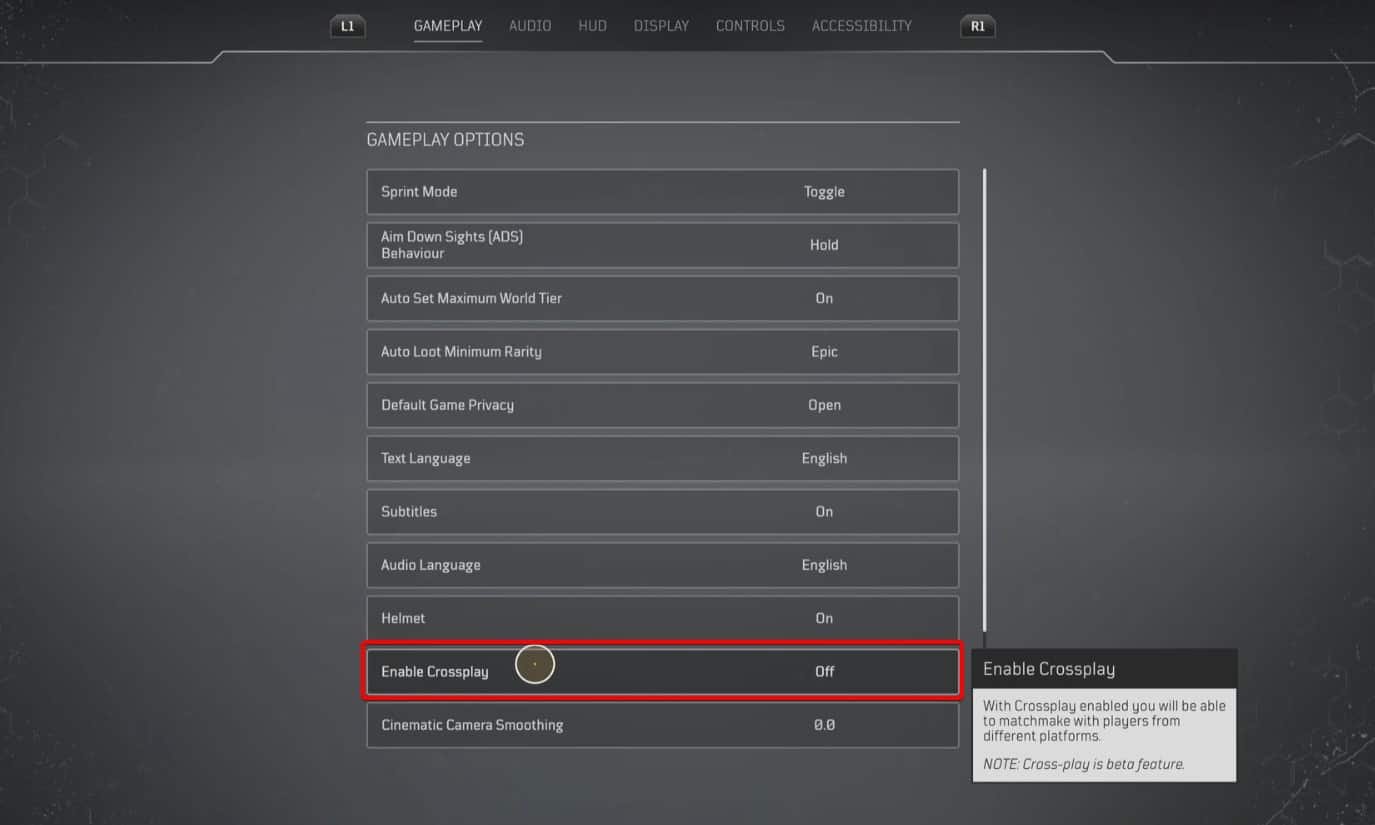 Next, all you need to do is to create your lobby by clicking crossplay game codes on the bottom left, and this will generate a code that players from other platforms can use to join your lobby.
Despite experiencing some issues on launch, crossplay is now fully functional, and it is in its most stable condition. Follow the steps above to join your console friends and have fun
Why Was Outriders' PC/Console Crossplay Disabled?
The initial launch of Outriders was far from perfect, and to be fair, nothing is ever perfect. For a game that was just released, it met with some bugs, players reported crashes during multiplayer, and one of the most common problems was unstable servers for crossplay.
Players were not able to join the servers, and if they did, the server goes unstable, and after a moment, players got kicked from the match. It was infuriating, so developers temporarily disabled crossplay servers so they could further work on them and release them in a perfect state later.
This is a common happening with every new game, so it's not a big deal. The good thing was that developers were ready to take action as soon as they spotted trouble.
Final Verdict:
Crossplay is endearing for sure, and it creates huge potential for most games. It's like future proofing a video game, add crossplay, and you are good to go.
You have players on multiple platforms, and they will most likely keep the candle lit for a long time. It creates a healthy fanbase and, furthermore, loyalty among developers and audiences.
Outriders is an amazing experience for gaming fans and the one that allows them the freedom to play on their favorite console with their friends. I hope more studios start implementing crossplay, especially in older games with an active fanbase.
Outriders had a major setback on its launch, but developers were quick to overcome it. This is the response that the gaming community deserves and looks forward to from every other gaming studio.
FAQ (Frequently Asked Questions)