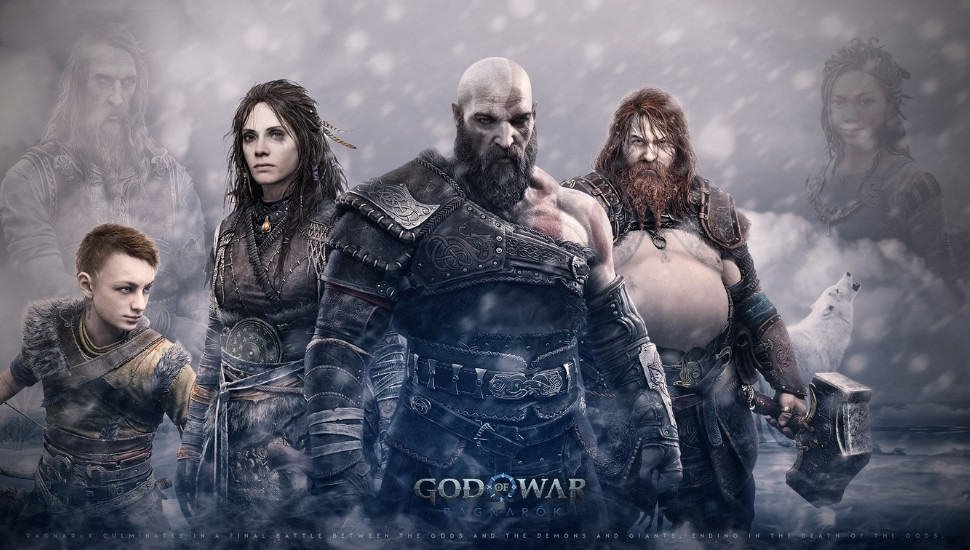 God of War Ragnarök has just been released (this November 2022), and since it was one of the most anticipated games of 2022, it was exactly according to our expectations. It is a reboot of Kratos and Atreus's story; the father-son duo is back with a twist in the story.
The story began a few years after 2018's story of the God of war. When the freezing winds of Fimbulwinter go to Midgard, all these tough situations make survival for Mimir, Kratos, and Atreus super difficult.
Even though the game is all about the trusting and understanding relationship between the father and son, there is such complexity in their interactions that unwinds during the game.
Kratos might be a warrior for everyone, but for Atreus, he is the father that wants to protect him from everything dangerous, especially from 'the bloody lesson he learned from his conflict with the Gods'
The game is praised all over the world for such amazing combat systems and mechanics. You will be delighted to see that this game takes forward the tradition of combat and action that has been present in the God of War game since its first game.
The game's team has worked really hard in making this game one of the best ones with graphics, gaming experience, a combat system, defenses, and other elements.
The opportunity to be with Kratos and Atreus in yet another chapter of their life is definitely something worth experiencing.
Apart from this, the game will also be more advanced than the earlier game of God of War Ragnarök because the enemies are harsher, and the situation is tougher than usual.
And the absolute best part is that you will also be able to explore all nine realms (which were previously not possible in 2018's game).
So, now you can explore jungles, mining networks, valleys, and everything these extraordinary realms, including Vanaheim, Asgard, and Svartalfheim, have to offer.
Since the game is out, it is your queue to play it alone or with your friends on your system (because God of War Ragnarök is actually a cross-platform game, yay!).
However, if you still haven't played it, you might want to check your system requirements before you determine whether the game will work or not on your system.
God of War: Ragnarök Minimum System Requirements
With minimum requirements, you can stop your mood from getting ruined because the game doesn't work.
You can enjoy it with minimum requirements, but obviously, these requirements don't match with the recommended or ultimate requirements and the gaming experience they provide.
AMD Phenom II X4 805 OR Intel Core i5-3570K 3.3GHz CPU
8 GB of RAM
Windows 8 64-bit OS
NVIDIA GTX 960 (4 GB) or AMD R7 290X (4 GB) Video card
Vertex shader: 5.1
Pixel shader: 5.1
70 GB of free disk space for game
4 GB of dedicated Video RAM
720p and 30 fps performance.
These were some minimum requirements that you will need to run your game successfully on your system. They will provide you with a reliable cover to enjoy God of War Ragnarök on your PC. But you won't be getting a 100% gaming experience.
God of War: Ragnarök Recommended System Requirements
In this section, I am going to mention some recommended requirements for the game God of War Ragnarök. These requirements might not be high-end ones, but they are the official requirements from the creator of the game, Sony.
AMD Radeon R9 370X OR NVidia GeForce GTX 950 (2GB) OR Intel i5 – 6600k (4 core 3.5 GHz)
8 GB RAM
Windows 10 64-bit
Pixel Shader: 5.1
NVIDIA GTX 1060 (6 GB) or AMD RX 570 (4 GB) Video card
Vertex Shader: 5.1
70 GB free disk space
6 GB (or AMD 4 GB) of dedicated video RAM.
Once you fulfill these requirements, you can enjoy fearless gaming with unstoppable enjoyment of the game on your PC and steam.
Your game won't even mind running for long hours while you play. You will have excellent graphics and gaming experience waiting to be played.
God of War Ragnarök High-End or Ultra 4k PC Requirements:
As you already know that this is a high-end PC game, and the best way to do justice to the game is by updating or adding 'high-end' or 'Ultra 4K' system requirements to your gaming system.
These requirements are not much different from the recommended system requirements, and the only difference is in GPU, CPU, and storage.
71 GB storage
NVIDIA GTX 1070 or AMD RX 5600 XT GPU
Performance: 1080p and 60 FPS
Windows 10 64-bit OS
8 GB DDR5 RAM
Processor: Intel i7-4770k
These requirements are the requirements that you should focus on if you want to enjoy an otherworldly gaming experience. As a result, your gaming experience will enhance to something you have never experienced before.
Recommended articles:
Final Verdict:
Now that you know everything about God of War Ragnarök, including its system requirements, you can take the help of this blog to ensure that your PC is ready to run this game.
Hopefully, you won't regret using my given specifications, which will take your game to new heights.
The game will take you on an epic journey of Nordic and mystic lands where you (Kratos) will, along with your son, try to escape hell, and fight for your life, to ultimately make your bond strong with one another.
So, it's time to tighten those seatbelts because the game won't go easy on even the best-est fighters.