The LM-S is a Marksman Rifle that can be obtained in the video game Call of Duty: Modern Warfare 2 (2023). It is one of the weapons that may be used in the game.
The most effective loadout for the LM-S in Modern Warfare 2 is a question that fans have already begun to ponder as players become more proficient in Infinity Ward's newest creation.
In addition to mainstays like the M4, new entries frequently provide a welcome dash of variety to the Meta game as players search for the most practical combination of attachments to make an impression.
Players in Call of Duty: Modern Warfare 2 are leaning toward the LM-S, a solid semi-automatic weapon that is capable of doing tremendous damage in long-distance duels. The cycle for the game is well started at this point.
Check out the most recent guides highlighting the top Modern Warfare 2 weaponry that may be used as part of a multiplayer loadout, and see what they offer.
Best LM-S Loadout Modern Warfare 2
| | |
| --- | --- |
| Receiver | LM-S |
| Muzzle | Polarfire-S |
| Rear Grip | LM Cronus Grip |
| Underbarrel | Agent Grip |
| Stock | FT Mobile Stock |
| Optic | SZ Lonewolf Optic/DR582 Hybrid sight |
When designing my loadout for my LM-S in MW2, I prioritize its maneuverability and responsiveness so that it can better compete in the game's current fast-paced Meta.
The LM-S is a versatile weapon that can smash heads anywhere on the map or quickly dispatch enemies with just two body shots while you move quickly from one place to another. Nonetheless, it dramatically enhances the weapon's damage output and precision.
Let's get right to the point and discuss the best Modern Warfare 2 LM-S loadout. Starting with the marksman rifle, the five essential attachments increase the LM-range S's accuracy while slightly enhancing its damage and mobility.
The gun's handling may give this scene its worst impression, but I want to make this weapon even more lethal immediately.
The FT Mobile Stock boosts your speed in several ways, including sprinting, walking while aiming, crouching, and using the ADS, at the expense of very little in the way of aim stability or recoil control.
Your capacity to resist flinching is improved by the LM Cronus Grip, while the Agent Grip enhances hip fire accuracy and idle aiming stability.
Related readings:
As the genuine marksman you are, the Polarfire-S silencer lets you avoid looking at the minimap. Still, it also increases the bullet velocity, damage range, and smoothness of the gun's recoil—all reasonable trade-offs, I'm sure you'll agree.
I've chosen the SZ Lonewolf Optic in the optics department since it has a clear holographic sight. However, if you want more magnification, the DR582 Hybrid sight is a fantastic choice; be aware that it will emit a faint glimmer.
Best LM-S Loadout: Perks And Equipment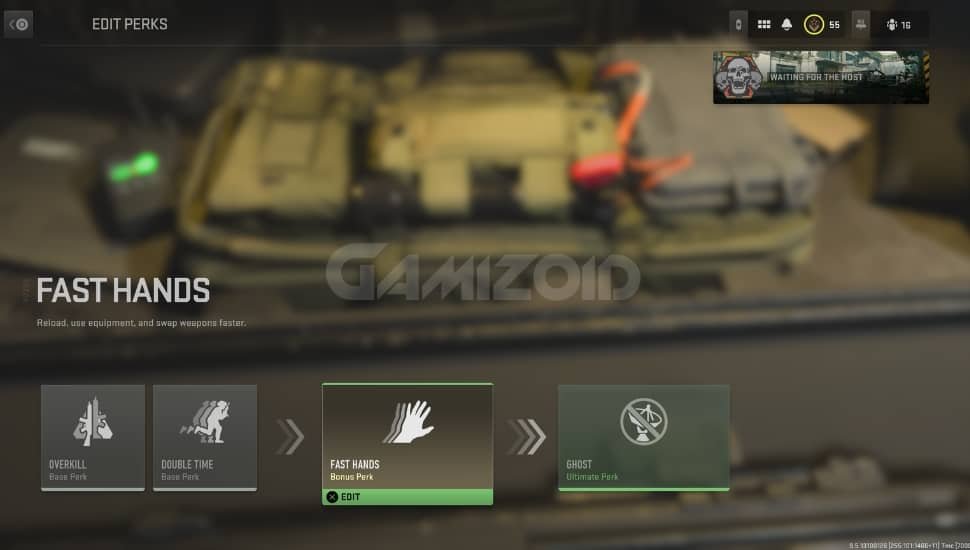 | | |
| --- | --- |
| Base Perk 1 | Overkill |
| Base Perk 2 | Double Time |
| Bonus Perk | Fast Hands |
| Ultimate Perk | Ghost |
| Tactical | Stim Shot |
| Lethal | Thermite Grenade |
The best LM-S loadout for your LMS-S will effectively regulate recoil for your weapon, allowing you to fire while maintaining your aim. More essential, you must keep control over your weapon's accuracy and flinch to ensure that your bullets do not veer off course.
Even if the LM-most S's practical attachments are still a mystery to me, I already have a fair notion of the numerous bonuses and pieces of equipment that can offer even more benefits.
Overkill is a required perk if you want to employ any weapons, as mentioned earlier, as your secondary weapon in the game. The Double Time bonus is quite helpful because it allows you to continue your tactical sprint for longer.
The fantastic additional "Fast Hands" ability lets you quickly switch between your LM-S and your secondary weapon choice.
It makes the most sense to choose Ghost as your ultimate perk in Modern Warfare 2 if you wish to avoid detection by opposing UAVs. One of the most excellent in-game rewards is Ghost.
One of your deadly weaponry's most adaptable components is the Thermite Grenade you possess. It is suitable for taking out targets but can quickly disarm those irksome riot shields and cling to enemies.
Placing a Stim Shot in your tactical slot will allow you to quickly recover your health when you find yourself in a potentially dangerous situation.
How To Unlock LM-S In Modern Warfare 2
Most of the weapons in Modern Warfare 2 are linked to their respective weapon platforms, and the LM-S is not an exception to this rule. You will need to use the Lachmann & Meer weapon platform in order to gain access to the firearm.
Your first order of business in the multiplayer component of Modern Warfare 2 is to advance to player level 16. The Lachmann-762 will become available for selection from the corresponding weapon platform after it has been unlocked.
The LM-S can then be unlocked from the weapon platform if you have reached level 16 with the Lachmann-762.
Final Verdict:
Many of the weaponry in Modern Warfare 2 offers you the most enjoyable experience possible. The LM-S is a rifle that belongs to the marksman rifles and provides a high level of both accuracy and damage to finish off adversaries.
If you seek a weapon that is just as accurate as the M1 Garand from Vanguard, the LM-S is the way to go in Modern Warfare 2 because it offers the same playability. If you have a strong enough aim, you can two-shot anyone.
The LM-S, much like other marksman rifles, has a low probability of penetrating the meat. However, if you are looking for a gun that can perform exceptionally well in battles at a medium range, it is highly recommended that you give this particular rifle a try.