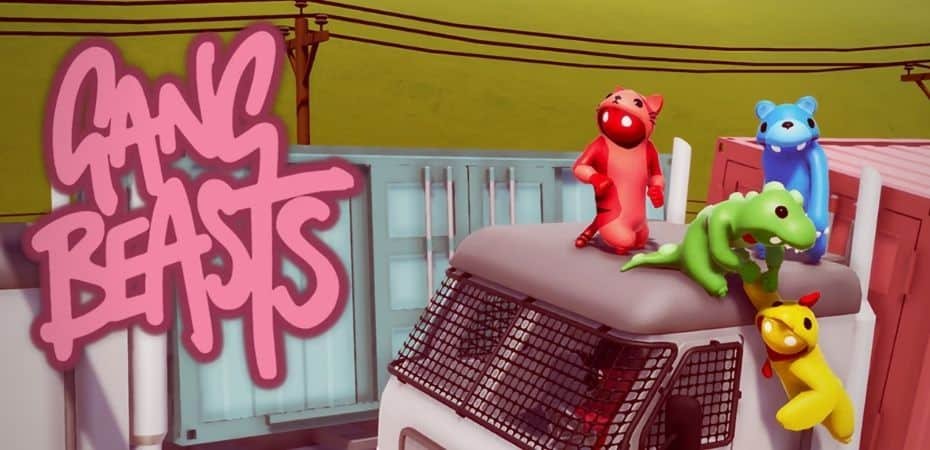 You hear the term beat 'em up multiplayer game, and the chances are that Gang Beasts will cross your mind at least once. Gang Beasts has been around since 2014, and the hype for the game is still as real as it was 8 years back.
You don't get to see a lot of fancy characters in the game, but a couple of goofy-looking minions. The game doesn't stand out when it comes to graphics; neither is its storyline a great selling feature. Yet there is something about the game that is keeping players glued to the screen.
The game is all about simplicity and the pleasure it brings you while playing with your friends. And beat 'em multiplayer games become even better when they offer cross-platform gameplay. But is Gang Beasts cross platform?
What Platforms Is Gang Beasts Available For?
We'll get to the game being cross platform or not later on in this article, but it's definitely a multiplatform game. If there's a platform that you can think of, Gang Beasts is available to play on that platform.
Beginning with the consoles, the game can be played on both last gen consoles, PS4 and Xbox One, as well as on Nintendo Switch. Moving on to the PC, the game is available to play on Windows, macOS, and Linux operating systems.
However, if you're running ahead of the crowd and own the latest gen console, the PS4 and Xbox One variants of the game can be played on PS5 and Xbox X/S, respectively.
Is Gang Beasts Cross Platform? 
Now for the elephant in the room, is Gang Beasts cross platform? The short and sweet answer to that is yes, but with limitations.
Given that there's always this one friend in the group who owns a different console in the group, players have been waiting long enough for the game to go cross platform. Especially for games like Gang Beasts, that are only multiplayer, there's no fun in them if your friends can't join in.
The developers have been talking for quite a while now that the future updates for the game will offer cross platform gameplay, and until very recently, I've seen the developers have started owning up to their promise.
If you're roaming around within the Microsoft environment, you can now finally play Gang Beasts cross platform with your friends. This means that the game can be played across the last and current generation of Xbox consoles and Windows.
However, if you're on a PC, you need to buy the game from the Microsoft store for the cross platform feature to work. The Steam version of the game doesn't offer a cross platform feature yet.
Reason Why Gang Beasts Isn't Cross Platform?
While cross platform games bring in a more diverse audience and a large user base for the game, there are still a few complications involved in developing a cross platform game.
To put it simply, developing a game for a single platform is far simpler and more cost efficient than developing it for several platforms.
Especially for games that were developed initially without any intention of making them cross platform, they have to be coded again using common code that can run across all platforms. This can prove to be pretty costly and time consuming for the developers.
Secondly, there are political and marketing gimmicks involved in making a game cross platform. A console that is leading the sales across the globe, would never want their console specific title to be played across a console from their competitors.
Hence, these are the reasons we are not getting to see Gangs Beast that can be played across all platforms.
Is Gang Beasts Available on PS5?
The developers have not yet released any version of the game for the latest generation consoles. This means that the game is not available for Xbox X/S and PS5. However, you can still play the game on your PS5.
Luckily, the game that was offered originally for PS4 can be played on PS5 as well. As one might assume that the game would then play the same as that on PS4, such is not the case.
Even if it is the same game, playing on PS5 will have significant improvements in terms of graphics and performance.
Gang Beasts Will Add Cross-Play When It Joins Xbox Game Pass, But Not With PlayStation?
Currently, the game can be played across windows and Xbox consoles. This means that if your friends have Xbox One, Xbox X/S, and the PC version of the game purchased from the Microsoft store, you all can play the game together.
However, is Gang Beasts cross-platform when it comes to PlayStation consoles? PlayStation is yet to join the cross-platform party with Gang Beasts, and there's a reason why the Cross-Platform feature is only available for Xbox players.
PlayStation charges a hefty amount to the developers to allow them to offer the cross-platform feature on their console. And it has been this way for a long time.
While some leading titles like Warzone and Fortnite had been willing to pay the amount and offer the cross-platform feature in their game across PlayStation consoles, some developers find themselves at an economical disadvantage in doing so.
Hence, the question of whether cross-platform will be available for PlayStation users will only be answered with time.
Final Verdict:
Even though the game is 8 years old, it still has a huge user base and continues to grow with time. It's bound to grow even more in the coming years, given that it has now started going cross-platform.
If you own a Windows PC or an Xbox console, then you're in luck since the cross-platform feature is already available for these platforms. However, if you're a PlayStation user, then you'll have to wait a little more with your fingers crossed.
Related readings:
FAQ (Frequently Asked Questions)