An Awe-inspiring Guide to the Awe-some Game; Terraria. Being one of the top-rated RPG games, the first question that everyone asks is whether they can play it with their friends; i.e., is Terraria cross platform or not? But, sadly, the answer is that it isn't available for cross-play on all the platforms.
Terraria is an incredibly fun and exciting game that will keep you hooked for hours on end. As you start the game, you will meet your guide who will tell you about the basic things, but the fun thing about this guide is that he is such an interesting NPC, who you can kill, throw into a volcano or keep in your house and he won't mind any of these things and will be happy with you anyway.
 This land of mystery and adventure is at your disposal; you can defend it and shape it as you like because the options are limitless here. It is your choice who you want to be in this game. Are you a builder? A collector? Or maybe an explorer? You can choose your character's specifications.
In Terraria, once you get the hang of the basic idea of playing, then you can roam around doing anything you like. But, doing all this is fun if you can do it with a friend, right?
Is Terraria Cross Platform?
The answer is yes and no. Terraria is and isn't cross platform at the same time. This means that it is cross platform for some platforms while not on others. 
You won't be able to play the game on different devices with your friends like PC + Xbox or PC+ PlayStation console.
But, the game is a cross platform if you and your friend are both playing on mobiles or if one of you is playing on mobile and the other is playing on PC. It can even work on different mobile platforms like android and iOS. 
You can only play the game with your friends on a similar device or similar operating system. But, there is news that developers are working on something that might make the game available as a cross play on different platforms.
However, this issue requires a more in-depth review of different platforms and devices, so let's take a look. 
Is Terraria Cross Platform Between Xbox and PS4?
No, Terraria doesn't allow cross play between Xbox and PS4 because this facility is not currently available due to the issue of transferring saved games from one platform to another.
So if you have a PS4 and your friend has Xbox, then both of you will have to buy the game for your respective platforms to make it possible for you to play.
Will Terraria 1.4 Have Cross play?
There is no definite answer to this question because the developers haven't yet released that information. All we know is that there is a hope that the game might be compatible for cross play on some more devices. 
2023 is supposed to be the year when the new version (1.4) of Terraria comes out, hoping that the new version will be better and contain a more exciting storyline. 
However, until the 1.4 version of the game comes out, it is a solid no on the game receiving cross play feature on most platforms. 
Is Terraria Available On PlayStation 5 And Xbox Series X?
Yes, currently, the game is available for separately playing on different console versions and on six different console systems.
The game is also playable via backward compatibility on Xbox Series and PlayStation 5. But, users of both these platforms can't play together via the cross play feature. 
Is Terraria Cross-platform Between PC and Xbox?
Nope, Terraria is not available for cross play on Xbox and PC. But, you can play it separately on both these platforms. However, there might be a chance with the 1.4 updates of the game to allow cross-platform playing. But, for the time being, we are stuck playing alone. 
Can IOS and Android Players Play Terraria Together?
FINALLY! Something to say yes about. YES, you can play cross platform with your friends on iOS and android. The game supports both platforms and the format files, so this means that if you have the game on your phone and your friend has it too, then you both can play together.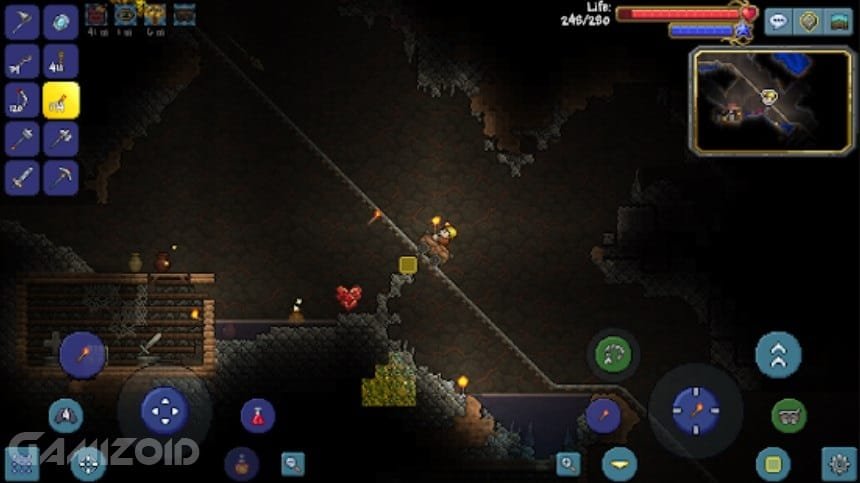 Another thing to affirm about is that you can cross play between PC and mobile devices. So if one of your pals plays on PC and you play on mobile, you can still play together without any hassle. 
Related guides:
The Conclusion:
Hopefully, you must have gotten all your answers about a cross play on Terraria. Since it was released, this 2D Sandbox game has kept me pretty much at the edge of my seat and hooked to it.
And that is why it might come as a disappointment (even to you) that the game doesn't support so many cross-plays platforms because we all want to share the game with our friends and play with them. 
However, there is not much we could do in this regard except for hope for the availability of cross play feature and loving the game despite all such issues, for it is still an amazing game.