Crossplay compatibility is always a hot topic in the gaming community. It is also one of the most demanded features in any multiplayer game.
The experience of joining a single game with your friends and just having a blast throughout the end cannot be described in mere words.
More means of connectivity, and interaction with other players in a co-op multiplayer is always welcomed with positive reception.
It Takes Two is a popular Co-Op multiplayer title that allows 2 players to join and solve puzzles together. It sounds the same as No Way Out, which follows the same structure and involves 2 player co-op campaign.
Now the question remains, is it takes two cross platform? Let's proceed with this guide further and find out.
Is It Takes Two Cross Platforms?
It Takes Two does not have a crossplay system. However, It Takes Two features the cross-gen capability between PlayStation consoles.
It is unclear why this is the case because this game is featured on numerous gaming consoles, but cross-play is not supported between any console.
You can still join your friends on a similar brand of console, i.e., PlayStation, doesn't matter what generation you own.
This is all thanks to the friend's pass introduced by Electronic Arts, which allows players to queue with other players on PS5 while they play on PS4.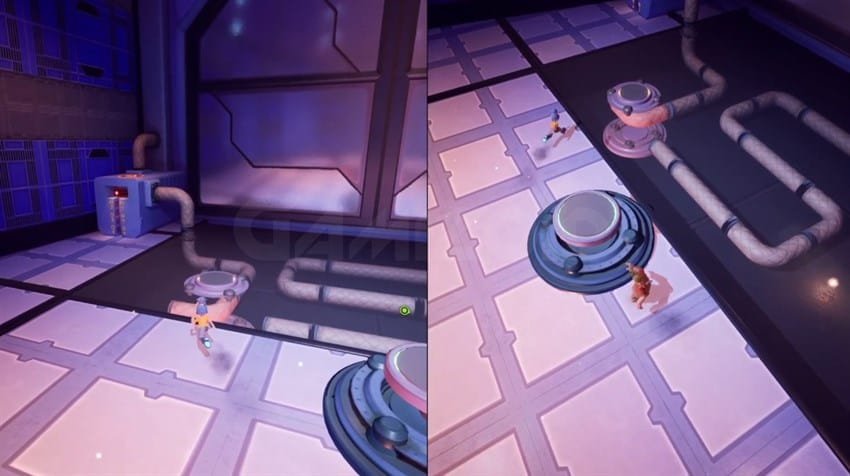 Even in 2023, developers are quiet, and we have not heard any update regarding cross-play from them. So in the future, there might be no hope for players expecting cross-platform updates.
Despite all these limitations, It Takes Two is still a fun experience between friends, and you can always make more friends on your platform.
Does It Takes Two Support Cross-save/cross Progression?
It Takes Two lacks any real support for Crossplay. Players are stuck with other players on the same platform, and no matter what, they cannot join from PC to PS5 and vice versa.
Similarly, this is the case with cross-progression. You cannot jump from one gaming platform to another and transfer your in-game process along the way. Your in-game cosmetics are locked and stuck with your account.
This is a huge letdown and could be a dealbreaker for some players who may want to switch their gaming platform to play with friends, but they cannot take their progress with them.
Related readings:
Can I Play The Same Game On Ps4 And Pc?
This means you are looking forward to switching between gaming platforms anytime you want. This will require the cross progression support to be active, which is sadly not available in this game at the moment.
Your account is restricted to the original console, and you have to take a fresh start after switching to another gaming platform.
Can You Play On Pc And Xbox At The Same Time With The Same Account?
This is a really tall order, or I would say an impossible one. PC and Xbox are separate platforms, and for this to work, you would need an option for cross-play and cross-progression.
Only then could you switch your account between platforms, and It Takes Two lacks both features. It is impossible for you to play on PC and Xbox at the same time with the same account.
Is Friend's Pass Available On All Platforms?
Friend's Pass is available on all platforms except Steam (PC). Friend's Pass was introduced by Electronic Arts as a means to invite your friend along the journey in-game, but this is disappointing for It Takes Two players because of zero crossplay support. Cross-gen support is very much available for users to enjoy.
Can You Play Couch Co-op Offline?
Players are quite fond of offline multiplayer games that can be played by two persons with split screen mode. Couch Co-op offline is available for It Takes Two.
You don't need an internet connection to enjoy the amazing story with your friends. Just plug in another controller and have fun sitting together.
Can Two Players Play It Takes Two On The Same Ps5?
Two Players can definitely start this wonderful on the same PS5 by connecting two controllers and enabling 2 players split-screen mode.
This is called Couch Play, and this is one of the best experiences you can have in gaming. Playing together with a friend in real-time is one of the positives of this game.
Final Verdict:
I hope this short and sweet guide helped you and your unanswered questions. This is certainly disappointing that even in 2023, cross-play is not as normal as it should be.
Without cross-play, you are stuck with your gaming platform. So make sure to check and see where else you can purchase this game if you want to play with your friends.
You got friends on PS5, and you have to get at least a PS4 to enjoy this adventurous multiplayer platformer.
But It Takes Two does make up for the lack of cross-play with the availability of Friend's Pass and Cross-gen support, but if I have to be honest, you can really feel the absence of Cross-play in this wonderfully designed puzzle multiplayer game. And I can bet that you will have great fun with this adventure, with or without friends.