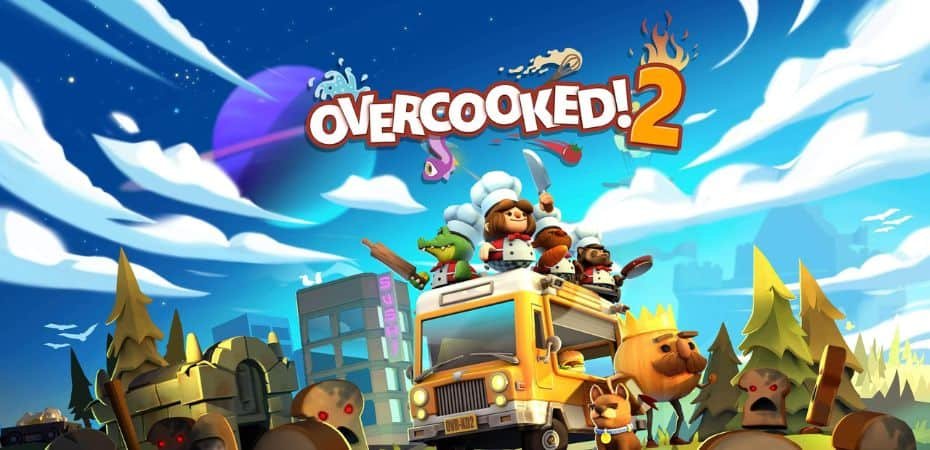 Ever heard of cooking simulation games? It's alright if you haven't because this is a very niche genre, and surprisingly it is quite an adorable side of multiplayer gaming. Imagine a cooking game that requires intense teamwork, and your biggest enemy is the ticking TIME.
Overcooked 2 is exactly the same and features thrilling cooking levels.
I would call this a cooking simulator that is also a cooperative multiplayer game. Released in 2018, Overcooked 2 launched on multiple platforms that including PC (Windows, Linux, and macOS), Nintendo Switch, PS4, and Xbox One, and later on newer gen consoles (Xbox Series X/S, PS5)
Overcooked is a simple and straightforward game featuring a single-player campaign along with a multiplayer co-op, which is the best thing about this title. The main objective of the game is to overcome difficulties and maintain healthy teamwork while making recipes for food.
Customers will order food, and you have to finish those orders in the given time period. However, The game can get over the top, especially with unusual kitchen designs that are purposefully created to challenge players.
Can you imagine moving platforms in the kitchen? A portal? or even fiery floors that are difficult to walk through? I would never work in a place like this, but thankfully, it's a game.
It's not real. But the stakes are real enough, and with these challenges and hurdles, you have to complete orders, or else customers will drop low ratings. A higher rating progresses you to the next level.
Overcooked 2 improved a lot of aspects from its predecessor, and my favorite one is the option to toss ingredients across the kitchen to other players. It's such a fun and unique twist in the cooking genre, and it's online too.
But does Overcooked 2 support cross platform? I would be pretty bummed if it didn't because this is a game that deserves playing with the whole team. Especially your friends who can communicate throughout tasks.
Is Overcooked 2 Cross Platform In 2023?
Overcooked 2 is a cross platform multiplayer game. Cross platform is a feature in multiplayer games that allows you to pair and queue with other players on different platforms.
It is quite popular in multiplayer, and for older games that lack crossplay, people are looking forward to developers for some kind of update about cross platform play.
Thankfully, this is not the case here, as crossplay is available for Overcooked 2. This is a type of game that relies heavily on team coordination.
You are running a virtual restaurant ( an over-the-top one ), and you have to cater to customers' needs without making them wait. they get anxious, they leave early, and you get a low rating. Kind of like how it works in real life, isn't it?
Teamwork is at its peak, one player is handling dishes, and the other is preparing ingredients; it can become overwhelming and hectic. For a perfect playthrough, multiplayer communication is a must.
And for your friends who are using different consoles than yours, Crossplay is the solution. All of this is possible because crossplay allows it.
But there is a simple catch. Overcooked 2 has a base version of the game, which is missing cross platform mode, but if you buy the DLC Overcooked 2 All you can eat, you will gain access to crossplay along with other features such as improved graphics and an extra level of gameplay.
It is a paywall, but it is cheap, and you can spend some money to unlock crossplay if you are willing to play with friends
All praise goes to developers for this initiative because every other major title these days, especially the multiplayer giants like Call of Duty, Fortnite, and Destiny 2, features crossplay.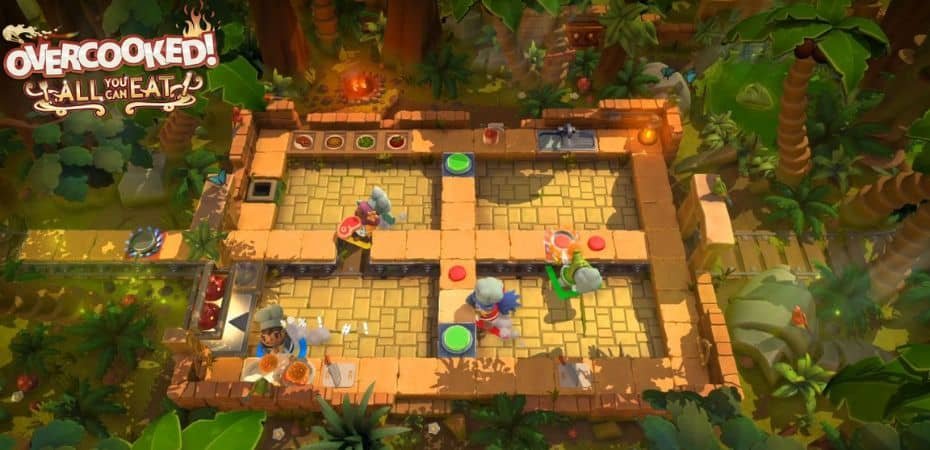 The market can get quite competitive for smaller indie developers. Crossplay works in favor of these studios, and the general benefits are also undeniable.
More players equal less time for matchmaking queues, Better communication between teams, as all players from every available platform start playing together, creates a strong gaming community which makes them easier to be heard by Developers.
Half baked (no pun intended) attempt at crossplay can result in failure and unstable servers, but thankfully, things are pretty stable here, and as more people join the Overcooked 2 gaming community, the gaming experience becomes more enjoyable.
More cross-platform articles:
Final Verdict:
The Overcooked 2 excels at everything you can expect from a game. You got entertaining gameplay and good graphics although some people may find it cartoonish, it actually complements the gameplay and crossplay for everyone to join in the same lobby.
Having good communication and a strong bond between your teammates is the key to winning any multiplayer game. Crossplay helps a lot, and for newer players who are willing to give overcooked 2 a try, they have multiple options to choose which console they want to play on.
Overcooked 2 is one of a kind game, especially in the cooking niche, it is one of the best for sure. so Invite your friends or join them in the battle and emerge victorious as the best chef the world has ever seen. Being a good teammate is the key
FAQ (Frequently Asked Questions)